"Managing: making yourself available and being at the service of others".
Image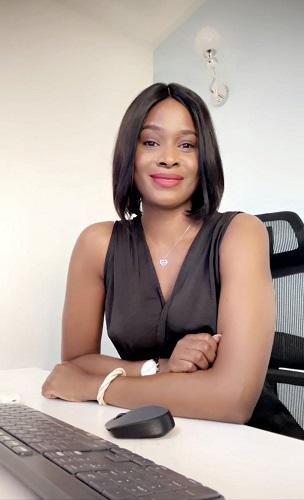 Mallory Maganga Antchandie arrived in France in 2011 from Gabon to study finance and accounting. 12 years later, including 8 years at BOURBON, she is offered a challenge in her new position as Area Finance Manager. Based in Cameroon since the beginning of October, she explains her career path, her life choices and her vision of her job. Interview.

BOURBON@Work: Mallory, you have been working at BOURBON for about 8 years, can you tell us about your career path?
Mallory Magagna Antchandie: At the end of my 4th year of university in France, I took a year off to do a first internship at Bourbon Gabon, in management control / accounting. Back in France, I finished my studies at the EMD Business School in Marseille, in a work-study program at BO Surf, in management control, with Guillaume Robles. I then joined Marion Laurent's team in Corporate before joining Bourbon Marine & Logistics.

B@W: A few months ago, you joined Cameroon. What is your new mission?
M. M. A.: I am based in Douala, on our logistics base and work for the entities of Cameroon, Ghana, Senegal, Ivory Coast and Nigeria, in what we could call a hub. In all, we are 10 people here. I am the financial manager of the hub, I have to monitor the financial balance, i.e. supervise the accuracy and reliability of the accounting and financial information in collaboration with the specialized teams.

B@W: Was it a personal goal to evolve again?
M. M. A.: Absolutely! I had already worked for Bourbon Offshore Surf, Bourbon Gabon, at Corporate level and at Bourbon Marine & Logistics. My desire was to be at the heart of operations, close to clients and suppliers. I wanted to understand the financial constraints of our business and better understand the process. It's a relationship-oriented job and that's what I like. I also travel frequently to meet the teams I work with on a daily basis.

B@W: And on a personal level?
M. M. A.: 3 essential reasons: I needed to gain autonomy, to be more responsible, to optimize my skills but also to participate in the decision making process. This is really my personal challenge. My team is composed of 4 employees, in Cameroon and Ghana.

B@W: Generally speaking, what do you appreciate the most in your job?
M. M. A.: It's probably the relationship, the fact of bringing the teams to cooperate to obtain the desired result! I am still quite new to this position but I have already worked hard to reorganize things, I think I have already obtained satisfactory results and I am proud of that.

B@W: BOURBON has just reformulated its values. Which of the 3 - ambition, high standards & team spirit - corresponds to you the most?
M. M. A.: Personally, I would say ambition and team spirit. For me, ambition is "to do and desire better than yesterday". I have always been ambitious, which is why I have evolved within several structures since I joined BOURBON. Since I left Gabon to come and study in France, I have made sure that I am in a dynamic of progress, in order to take on new challenges, acquire new skills and put forward my experience! I am not satisfied with what is given to me. I need challenges! And team spirit is first of all getting along with your colleagues, liking to be of service, and showing solidarity. But it is also the desire to pass on. I always have in mind the motto of the EMD, where I finished my studies: "To manage is to serve". I make this motto my own. Managing means making myself available and putting myself at the service of others.

B@W: What you have just described could also be linked to the value of exigency...
M. M. E.: It's true, these two values go hand in hand. You cannot be ambitious without being demanding of yourself and for a common professional cause. The requirement as well as the ambition and the team spirit are non-negotiable values.
PORTRAIT