Image

With continuous and strong commitment on Risk and Safety Management, BOURBON is introducing a set of rules that consolidate our existing safety standards and are dedicated to preventing harm to people: the 12 Life Saving Rules.
Inspired from best practices in industry and that of our clients, this set of 12 simple but essential rules raises our own risk awareness and that of our colleagues.
3 Objectives
Develop personal safety awareness
Prevent unsafe acts or situations
Comply with rules and procedures
Safety is everyone's concern: together we can work to achieve zero incidents.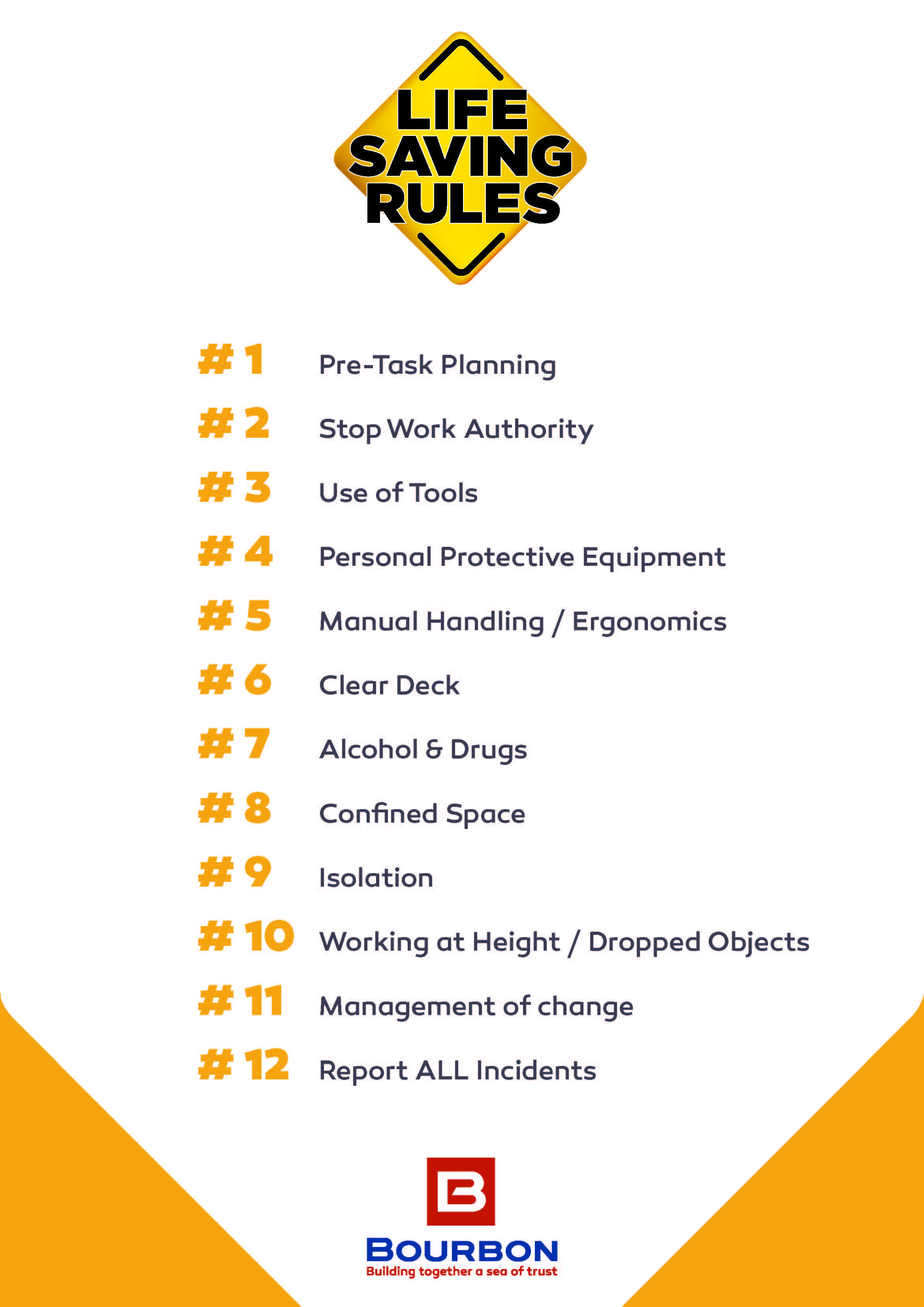 #1 Pre Tasking Planning
Many factors can impact the safety aspects of a task, so each operation needs to be planned in advance. Consider your environment- both the work force and material - in order to plan a task with optimal safety. Ensure each step of the plan is followed.
#2 Stop work authority
During any operation, be critical regarding the situation. If you notice anything that presents a risk for safety, you have the authority to STOP WORK. It is better to have a delay than an accident.
#3 Use of tools
Poor body mechanics can result in an injury when using tools or handling an object. The task to be performed must be evaluated and risks assessed. Precautions must be taken to when using powered or hand tools.
#4 Personal Protective Equipment
In your job, you're often exposed to a large number of hazards. Personal Protective Equipment (PPE) is the last barrier which provides a protective measure against such hazards.
#5 Manual Handling / Ergonomics
You will face situations when manual handling is required. Can you do it by yourself? Do you need help from anyone else or from a mechanical device? Consider the route if you are carrying an item, the set-down area and weather conditions: all may introduce hazards into the task and you must plan ahead.
#6 Clear deck
Whenever people are engaged in, or in the vicinity of operations involving a suspended load, we respect and comply with the 'Clear Deck Policy'.
#7 Alcohol and drugs
Alcohol and drugs have no place in any workplace. Misuse of alcohol and drugs can create personal health issues. The effects can last for hours, days or longer, placing individuals and other people at higher risk.
#8 Confined space
Confined space entry is highly hazardous without elective controls in place. Risk assessment, permit to work and rescue planning must be in place before starting any confined space entry. You may only enter a confined space when all other options have been assessed and there is suffcient reason to enter the confined space.
#9 Isolation
Sources of energy to equipment and machinery can be fatal if not correctly controlled. Effective controls include risk assessment, permit to work and a plan to ensure any isolation needs are identified, sequenced, tagged and locked when necessary. These control measures must be in place before.
#10 Working at Height / Dropped Objects
If people work at height there are potential high severity risks such as falling or dropping objects onto coworkers. Effective controls such as risk assessment and permit to work must be in place before working at height. People should only work at height when all other options have been assessed and there is sufficient reason to work at height.
#11 Management of change
Uncontrolled changes can introduce risk of undesired events and outcomes, including risks to health and safety. Operational, technical and organizational changes must undergo risk assessment. This is applicable to changes affecting onboard/ashore equipment, safety systems or devices; changes to procedures, planned operating conditions or safety parameters; changes in personnel, especially any safety-critical positions.
#12 Report ALL incidents
When incidents happen, we must ensure that the causes can be identified and corrected and the learnings shared. This way, we can best ensure the incident doesn't happen again. This is why it is always necessary to report and investigate incidents.
To guarantee that the Life Saving Rules are understood, shared and applied, a communication campaign is currently being deployed in 2018 - with visuals built on our motto "Safety Takes Me Home".
The campaign
Image

Life saving rules take you home
Image

Life saving rules take you home
Image

Life saving rules take you home
Image

Life saving rules take you home