Image

"Safety Takes Me Home": BOURBON's participative internal safety awareness campaign
At BOURBON, safety is a genuine dedication to the women and men who work hard every day to serve BOURBON's clients. Therefore, in line with our "zero incident" objective, BOURBON makes sure that personnel injury and all type of incidents are to be avoided at all times.
"Safety takes me home" campaign
Reinforce the safety culture
The main goal of this campaign is to increase the knowledge and the awareness regarding important health and safety issues, and to commit every single employee in adopting a responsible and proactive attitude to further keep on improving the BOURBON safety culture.
Simple and effective principles:
reinforce the active participation of individuals; this is paramount in safety issues
reinforce group training programs by providing hands-on tools for use in safety meetings
develop awareness through individual and collective familiarization.
Safety Takes Me Home campaign is deployed onboard all BOURBON vessels and at all operational and base sites. Each year, different focus themes are addressed: enclosed spaces, hand injuries, substance abuse, slip, trip and falls, near-misses, safety tools, pressurized equipment.
Complementary actions to maintain a safety culture
BOURBON is pursuing its efforts demonstrating that the safety is a top priority and mobilization is crucial. In this context, two complementary approaches to Safety Takes Me Home campaigns are held all year through: "Safety Days" and "Safety Stand-Downs".
> Safety Days: a proactive approach for all employees worldwide
These days help to mobilize all group employees simultaneously around common safety issues, in order to share best practices and experiences.
> Safety Stand-Downs: a response to a serious incident
Conversely, Safety Stand-Downs requiring a greater general awareness. Everyone then stops work a moment to go over the events and talk about them. At the end, a reporting from the field to the Safety teams helps to fuel the process.
> Safety Posts, an awareness tool
In March 2016, BOURBON launched its first Safety Post, which was designed to inform employees and prevent incidents both on board and on shore. Since then the Safety Post has established itself as a major safety tool, adopted by BOURBON's crews as well as its clients. The "Safety Post" is based on real events and developed to engage individual and team reflection by looking back at and discussing accidents and ways to avoid them.
Safety Post #66 - Be careful with pressurized equipments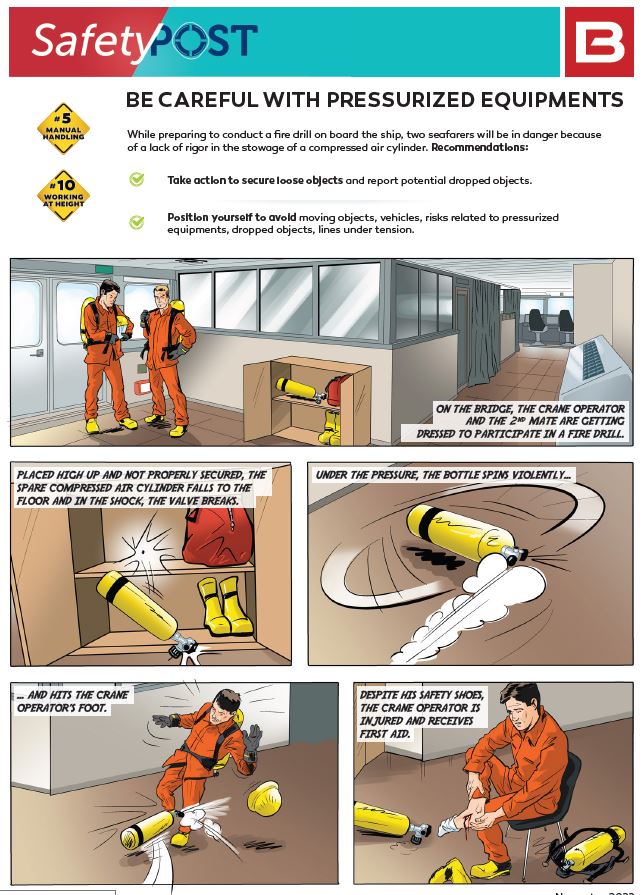 Safety referents, bourbon's greatest assets
The main relays in the field are our safety consultants. Through their work aboard vessels, sharing experiences and explaining instructions, they ensure the proper understanding and application of safety policies.
My recommendations must be feasible and sustainable, and for this we must be able to grasp all the HSE aspects related to marine operations. Whether it's now or tomorrow, we have no room to make mistakes, especially not in this time of crisis!
FREEZ MAKOUNGA
QHSE Manager - Bourbon Gabon