Image

In constant pursuit of operational excellence, we meet the needs of oil and gas clients by offering a wide range of services in continental offshore and deepwater offshore.
Deeply anchored locally, we believe our proximity with our clients is one of our main assets. Through our global network of shipmanagers and affiliates and partners, we are able to operate everywhere in the world with the same quality and safety standards.
Key figures
Image

Image

vessels
Image

adjusted revenues
Image

employees
Image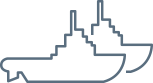 utilization rate for the fleet in operation
Image

countries of operation
Figures as of 12/31/2021
Our ambition: customer satisfaction
Close to our clients, we strive to meet their needs, with a clear ambition: to be the preferred offshore oil and gas marine services company for our clients, our employees, and our stakeholders.
The satisfaction of our clients is based on excellence in execution and BOURBON has broken down its strategic objectives into a 4-pillar operational model, shared by all employees: 
Our clients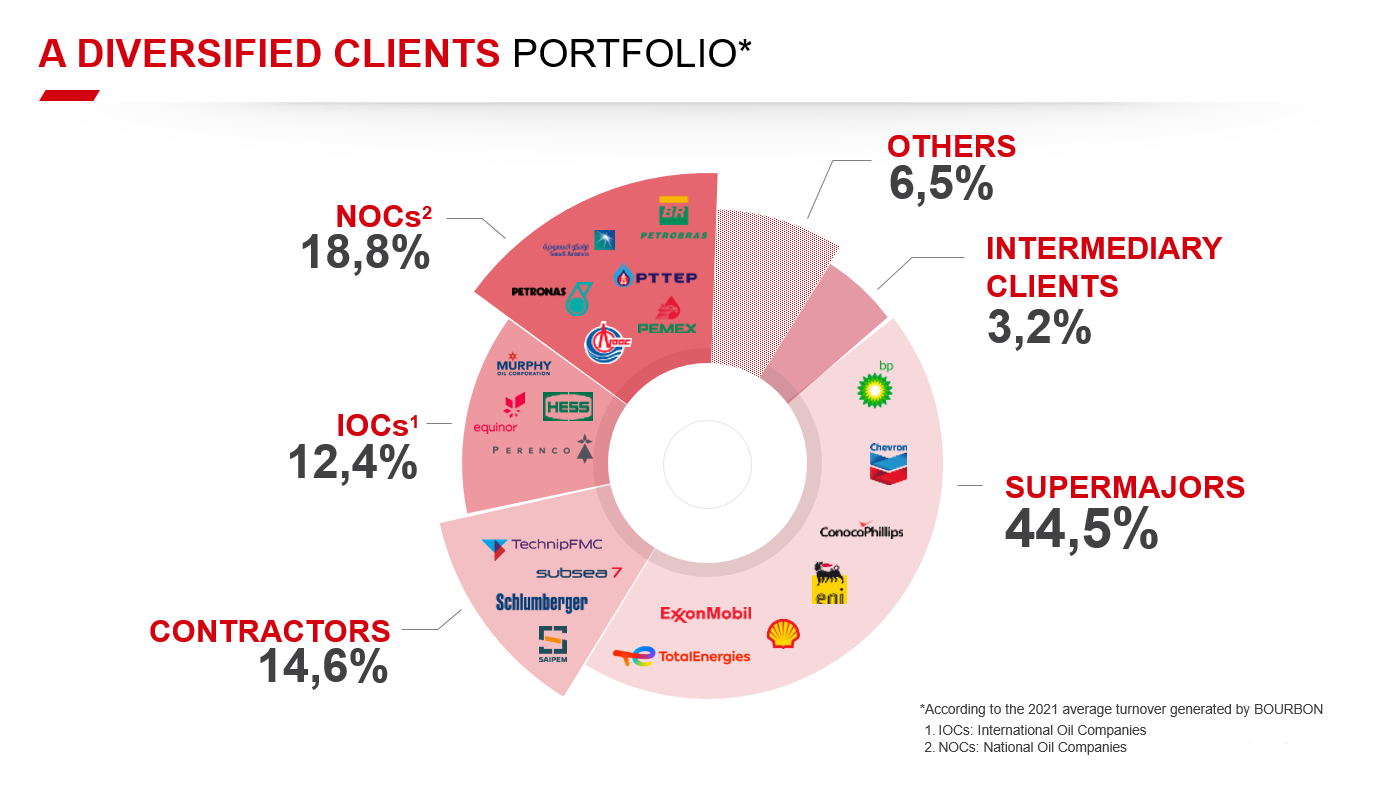 Strategy
In a market context that has challenged all market players in the Oil & Gas industry since 2014, BOURBON is accelerating its transformation through a strategic action plan #BOURBONINMOTION enabling it to meet the need for competitiveness and to respond to customers' new demands.
Launched in February 2018, this action plan is based on three priorities:
Better serving customers by reorganizing the activities of BOURBON into three distinct affiliates: Bourbon Marine & Logistics, Bourbon Subsea Services and Bourbon Mobility. These companies will be able to implement their own strategies and will focus on profitable growth changing their model to develop more integrated services.
Capitalizing on the digital revolution to better differentiate by connecting the fleet. With the main objective of improving operational excellence at optimum cost, the "Smart shipping" program will connect the fleet of 132 modern supply vessels (known as the "smart fleet") of Bourbon Marine & Logistics. This program will enable a sustainable reduction in vessel operating costs.
Responding to the human challenge by supporting the change
The challenge is to reinvent ourselves, to innovate and to recreate value in this industry.
GAËL BODÉNÈS
Group Chief Executive Officer
3 stand alone companies
Bourbon Marine & Logistics

offers in continental and deep offshore a wide range of support services that includes supplying offshore installations and vessels - towing, anchoring, and positioning of offshore installations - support to floating oil & gas production, integrated logistics services.


Bourbon Subsea Services

handles complex Subsea operations and covers 3 main areas: Engineering, supervision and management of subsea operations including reasonable size turnkey projects; Support to the development of offshore oil & gas fields & wind farms; Inspection, Maintenance and Repair (IMR) of offshore structures, at depths of up to 4,000 meters.


Bourbon Mobility

is dedicated for more than 30 years to high-speed passenger and light cargo transport services for offshore oil & gas clients, both short or long distance, with a unique transportation capacity: around 3,000 passengers transported per day.