orange
Image

Bourbon Mobility's new "Door-to-Rig" service is now part of the #BOURBONINMOTION strategic action plan, which aims to place BOURBON more in a position of service provider than shipowner. This integrated passenger logistics offer takes care of clients from their homes or the airport to the rig, with greater flexibility.
The Door-to-Rig solution offers Bourbon Mobility clients the guarantee that their staff transport, which can be long, complex and costly, is ensured by a single service provider that takes charge of their employees throughout their entire trip.
This integrated passenger logistics solution offers clients a twofold advantage:
the decider has a single and unique point of contact and can remain focused on their specific operations,
the passenger is cared for under the best conditions of comfort, safety and security.
The passenger is the focus of attention throughout the trip, ensuring that it takes place under the best possible conditions: personalized welcome, awareness of safety measures, an offer of films and video games during transfer aboard Surfers and, in the future, a catering service and internet connections.
This service is also based on "flexible chartering", which provides clients with flexibility and the optimization of their Surfer occupancy rate. This new organization enables the client to reduce their costs and permits Bourbon Mobility to rationalize the use of its crewboats. In the long term, this contract model is only a first step towards the Pay/Trip and Pay/Seat solutions that Bourbon Mobility is evolving towards.
Airport to rig
A variant of the Door-to-Rig service, the Airport-to-Rig solution sees Bourbon Mobility take charge of all aspects of the transport of the client's posted personnel or those on special missions to and from rigs, including airport reception, hotel transfer, accommodation and meals, all necessary procedures (including quarantine during the Covid-19 pandemic), a safety initiation program, and sea transport to the platform aboard a Surfer. The notable advantages for the client are reduced costs and increased safety. The first 4-month Airport-to-Rig contract was signed with Subsea 7 in 2020.
Image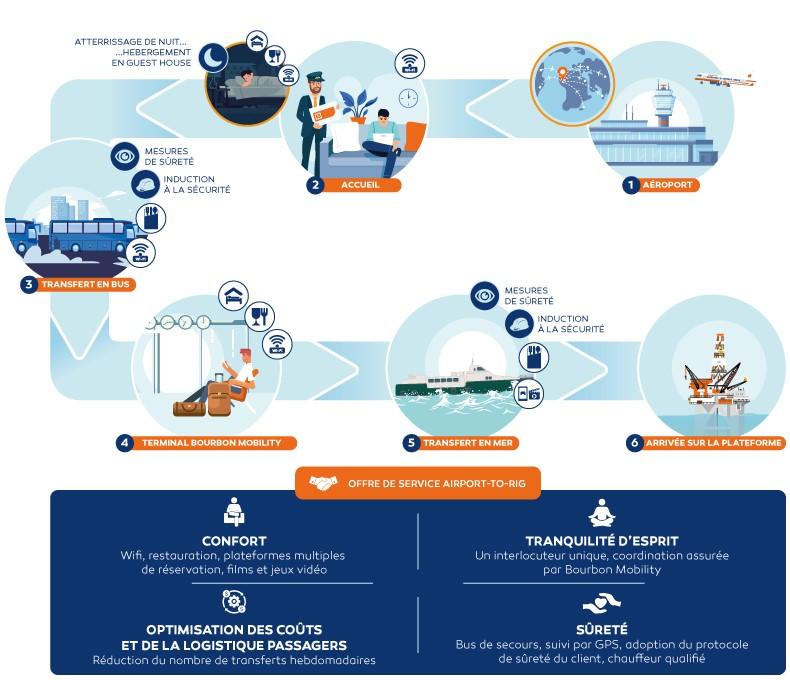 orange
orange