Cook, onboard strategic position
The cook ensures the preparation of meals for the crew, what a strategic and central position onbard. Portrait of Françoise Neige who tells us about her journey and shares with us her daily life on Capo Cinto.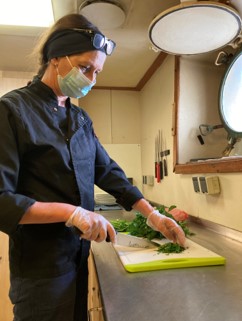 OFFshore: What is you professionnal path within Bourbon Offshore Surf?
   Françoise Neige : After several years spent as Engineer and AB onboard around the Britain islands Penn Ar Bed, I decided to switch paths in order to      organize my personal and professional life. Cooking has always been my passion, so it was only natural that I turned to the profession of onboard            cook. In September 2019, I was hired for a cook position on the Capo Cinto, one of the vessels that Bourbon Offshore Surf operates. Since then, I have        been sailing between Nice, Corsica and Italy in a very pleasant setting and with a 100% French crew but heterogeneous in their region of origin                 (Brittany, Corsica, Marseille area).
 
   OFFshore: What is a typical day of an onboard Cook?
   F.N: When the boat is docked, I take the opportunity to visit my producers and traders in order to stock up on better products. I can see how lucky I am to be able to do my shopping myself, which is not the case with all on-board cooks. Of course, I have a budget to respect, I try to optimize my meals as much as possible in order to serve the crew only fresh. In the evening I offer simpler dishes in favor of midday meals with more elaborate and substantial dishes. Cleanliness and hygiene are paramount, so cleaning has to be done several times a day.
 
OFFshore: What are the main required qualities to perform at this position?
F.N : The profession of cook requires technical and organizational skills as well as interpersonal skills. It is necessary to be rigorous in the management of stocks and the budget and to ensure the cleanliness and hygiene of the preparation surfacesfood. The meal is a moment of conviviality after the effort for the crew, its culinary quality will partly condition the atmosphere on board. It's a tiring but exciting job and I'm delighted to be able to do it with a crew on a human scale.
 
OFFshore: Which particular memory would you like to share with us?
F.N : No particular memories but above all the beauty of the landscapes that we observe while sailing between Corsica and Sardinia and the links we have built with the crew members. I am extremely delighted to be a part of it and happy to contribute to the daily comfort during operations on board.
 
OFFshore: Which meal is always popular with the crew?
F.N : I really like Mediterranean cuisine which I often offer on the menu. It is a cuisine rich in flavor and that everyone agrees with. However, I do cook more exotic dishes that the crew love, like coconut curry.
 
OFFshore: How do you see yourself in the long term within BOURBON?
F.N : I see myself continuing as an onboard cook and I really appreciate my responsibilities to the crew. It is very motivating to grow professionally in a healthy work environment rich in human encounters
Portrait