March 08, 2019
With her kind and poised voice, we get the impression of a quiet young woman. At the age of 30, Lucie Boussousgou defines herself as someone who is "naturally good-tempered". When we get to the question of work, she calmly announces that she will do everything necessary to be validated as a Surfer pilot in a few weeks. A Surfer pilot? Yes, and she really doesn't see anything surprising about that. A portrait.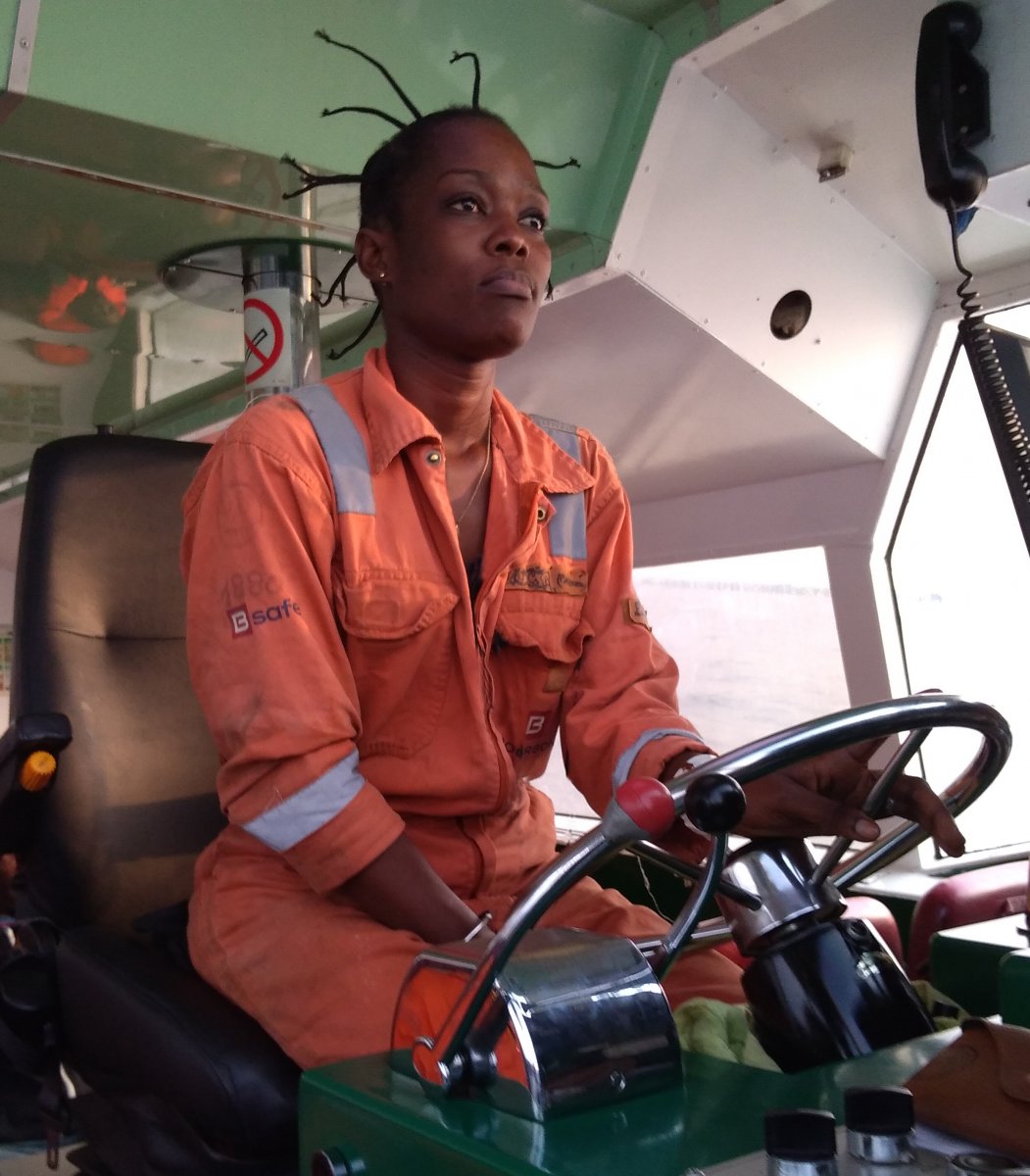 A native of Port-Gentil, Gabon, Lucia Boussougou joined BOURBON as a seaman in 2016 after studying oil and industrial logistics. "There was a niche to fill and I jumped at the chance," she explains. "It was a great opportunity that I absolutely do not regret." In 2017, she attempted BOURBON's in-house selection that offers seamen the possibility to attend training to become pilots. And it was a success. "I wanted to work my way up the ladder, which is only normal, isn't it? It's like for the boats. I hope to be able to pilot bigger and bigger vessels, Surfers then supply vessels, and why not abroad?" she adds. Eleven candidates, including two women, headed to Morocco for 4 months to obtain their Master 500 gt certificate.

Currently working in tandem1, Lucia Boussougou has all the assets she needs to become one of the two first women pilots in Gabon by the end of March on a Surfer 1800, while raising three children. Is she a little daunted by the idea of shouldering these new responsibilities? "Not at all, I have no apprehension. You know, I already have a load of responsibilities with the children at home. I'm happy to fill this new post, but I'm not bursting with impatience. Things will settle in with time," she adds philosophically. She fears neither bad weather nor the swells she has already encountered during several boat-landings with her tandem: "even if it seems awesome, we never take risks," she observes.
"Even if it seems awesome, we never take risks"
LUCIE BOUSSOUGOU
PILOT OF SURFER IN TRAINING
She says she loved her first lifting operation, which consisted in towing a pipe with the Surfer from the crude production platform to the tanker to transfer the oil from one to the other. It was not an easy mission and a platform technician was brought on board to be able to make recommendations to the crew. "It was exciting, like all operations you do for the first time and are successful, but which represent technical challenges. In addition, we were two women on board, which never happens." Inevitably, the question of gender arises: is it hard to be a woman on board? She hardly bats an eyelid to answer no, not at all. No problem of acceptance, no difficulty with the crew or clients. "Men/women problems are the same on board as elsewhere, but we know how to handle them. The crossings are short and, even if I am good-natured, you sometimes have to be tough to make people understand. It stops there. I've never had a problem with that." Lucia hopes her training will be validated in a few weeks and that she will have full responsibility over her Surfer and her passengers, but the future pilot is ready to meet the challenge!
1: Before validation of their training, pilots sail "in tandem" alongside a referent or certified pilot.